20/12/2013
RUKA
Finally the first World cup of the season is behind me. I hate the first one. For some reason it's the one that makes me the most nervous. I think it makes sense because it's been a while since I've competed.
Overall, Ruka wasn't too bad. The course was pretty rough though. Definitely challenging.
The couple of days before the competition I had some okay training. I always have a hard time putting all the pieces of the puzzle together. Somehow I always manage to put it together during my run.
My qualification run wasn't my best. After my run I was sitting on the bubble with something like 15 girls still to go. I was very lucky I was given another chance to ski in the finals. I was angry I put myself in the bubble situation but it made me hungry. I had nothing to lose so I went out with this mind set.
Perfect scenario would of been going from 16 to making it to super final but coming from 16th place it was a long shot.
I ended up 9th. I was really pumped with my run. I cut a couple seconds on my time and everything else was like I wanted.
I'm really excited to finally leave Ruka…I'm looking forward to spend some time at home during the Holidays. It will be good to give my body a break before the next World cup in Calgary on January 4th.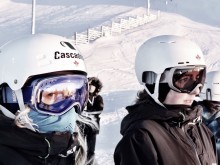 Back to homepage