27/01/2014
SOCHI
The last couple of weeks before the Olympic team was announced (January 19) was a nightmare for me. After I hurt my knee (first degree tear in my lateral collateral ligament of my right knee) in Calgary, I was sitting at home and watching my team compete on the rest of the World cup tour. I felt so powerless.
When my injury first happened I didn't think my knee was in such bad shape but our team doctor said I had to be out for at least a couple maybe even a few weeks. My options were:
1. Go home and get a PRP injection
2. Go home and not get the PRP injection.
I mean I had to be crazy not to try the PRP injection. At first it didn't feel great. My knee felt super achy for the first few days. I thought…No way I can ski in 10 days (Val Saint-Côme World cup). Slowly it started to feel better and better everyday with the help of amazing physios. I ended up skiing in Val Saint-Côme. I'm so glad I did the injection. Two weeks and a half after getting the injection I can tell you that I've felt enormous improvements! So happy this is working. All thanks to Dr. Francis Fontaine!
Let me tell you about my last sunday aka Val Saint-Côme World cup on the 19. I had decided to drop out of the competition the night before because my knee didn't feel stable enough. I had to do better than a 9th place to get myself a better position in the Olympic selection. With only 1:15 mins of training the day before the event, there was no way I could have done my best. It was a decision i took myself. I had spoken with our high performance program director, my coaches, my parents and my sport psychologist prior to take such a big decision. It was very tough because I was once again letting my Olympic dream in someone elses hands.
I ended up watching the whole competition on sunday. I had to cheer for my team because they were competing and some of them were still fighting for their olympic spot.
That Sunday wasn't fun. You could tell everyone was nervous. I was too. I don't think I ate for the entire day. I felt too sick in my stomach.
Val Saint-Côme was a great event but I felt like I couldn't enjoy it and appreciate having my friends and family there because I just wanted to hide and wait for the day to be over.
I just wanted to know if I was going or not.
It was a tough event not only for myself but for a lot of my teammates and their families.
Maybe you didn't know but for our Olympic selection, we compete against everyone (Male and female) in our sport (Aerial, slopestyle, half pipe, ski cross and moguls). So you can see how tricky it can get.
Lets talk about Andi Naude. Before I tell you anything else go ahead and follow her on Twitter, Instagram and Facebook. Andi was the only athlete who could have bumped me out of the Olympics on Sunday. Do you know how heartbreaking this was? As much as I wanted to go to the Olympics for the second time I wanted Andi to go too. I really wish we went together. It was very difficult to see her bummed after her run in Val Saint-Côme. I wasn't feeling good about it. She's a great skier and I truly believe she's the future of mogul skiing. She's a better skier than I ever was at her age and I have no doubt in my mind she'll kick some serious butt in Korea in 2018!
Right now i am in Tignes France for our Pre-Olympic camp. The course is amazing and my training is going very well. I did all my tricks for the first time since my injury a couple of days ago. I still have a lot to do but I'm ready to do whatever it takes.
I cannot wait to represent my country again at the Olympic Games. It is for me another dream coming true.
Thank you all for the support I appreciate it!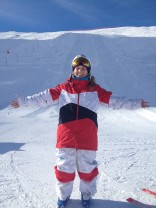 Back to homepage