01/04/2014
THANK YOU!
The winter is officially over for me! Best way to end it with a second place in single and a first place in duals at nationals last weekend in Apex!
I wanna thank everyone who helped me make this season so memorable. It was absolutely the most fun I had competing in a very long time! Going to the Olympics was definitely the highlight of my winter but competing, training and traveling with my friends is what makes it the funnest!
Thanks JP, Marc, Steve, Adrian and Jo for coaching me/training me.
Thanks to all the physios, doctors and massage therapists for keeping me in one piece. Amazed I ended my season healthier than when it started!
Thanks to my beautiful teammates Christel, Clare, Alex-Anne, Andi, Kiera and Myriam for pushing me to be a better athlete and for reminding me that fun comes first.
Thanks to my wonderful sponsors. Check them out here.
Last but not least, huge thank you goes to my family and friends, especially my mom, my dad and my brother Sam.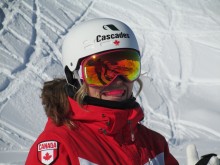 Back to homepage